Community Relations
Allsup is dedicated to providing volunteer support and resources to various community organizations.
Allsup Supports Art On The Square In Belleville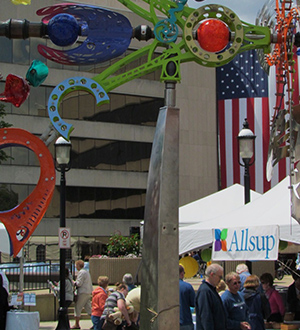 Allsup and our employees have supported the nationally recognized Art on the Square juried art festival for more than a dozen years.
Held in downtown Belleville, Illinois, the show draws thousands of visitors to the region and provides a significantly positive financial and cultural impact for the community.
The three-day event includes programs that feature student artists and a high school art competition. It has been ranked in the top five art shows in the nation since 2007.
Along with Art on the Square, Allsup and our employees donate time, money and talent to support the
Allsup Charitable Services
organization. Their mission is to strengthen youth and family focused non-profit organizations in the Metro-East by providing consultative services, administrative support, and program development to grow and sustain the organizations that are providing educational and economic well-being programs for the community.