Allsup Medicare Verification Eases the Transition for Your Retirees onto a Private Healthcare Exchange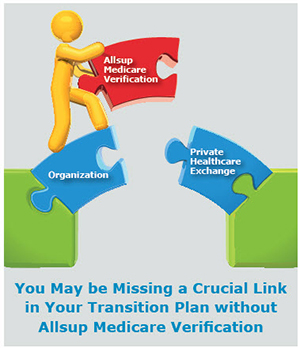 A Smooth Transition is Key to Your Organization's Success
Moving to a private healthcare exchange can be confusing for retirees, especially for those who are entitled to Medicare. Many retirees decline Medicare Part B to avoid the monthly premium, but need it to be eligible for coverage within a private healthcare exchange.
Allsup Medicare Verification helps your organization avoid common issues for retirees. Our highly trained experts will:
Identify Eligible Participants
We work with your exchange provider to identify retirees and participants who are transitioning onto your private healthcare exchange.
Verify Medicare Status
We verify retirees' eligibility for Medicare coverage and their current enrollment status.
Enroll Participants
We properly enroll these individuals in Parts A and B.
The Benefits of Allsup Medicare Verification
Improves the success and cost-effectiveness of your organization's private healthcare exchange.
Provides access to knowledgeable Medicare enrollment experts.
Creates a more holistic healthcare approach by offering support and benefits for retirees.
Eliminates the need for training internal employees to assist retirees with Medicare issues.
The Society for Human Resource Management (SHRM) advises employers to "make sure there's support" when making the switch to a private healthcare exchange.*
*Article: Strategic Moves: The Exchange Option for Retirees (March 1, 2016 by Tamara Lytle, www.SHRM.org).
The Allsup Advantage
Allsup has a 30+ year history of successfully coordinating private and public disability and health insurance benefits for hundreds of thousands of individuals and their families, their employers and their insurers. Our goal is to simplify complex government programs and information so your organization and employees can make satisfying decisions that have a positive result.
For more information about Allsup Medicare Verification and how it can support your organization and employees, please call us at (888) 271-1173 or email us here.